"When words leave off, music begins"
Heinrich Heine
Frequently Asked Questions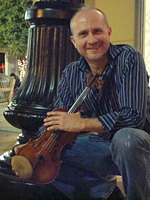 Answers from the director, David Miles Wolcott
(Click Question to show/hide the Answer.)
Q. How long will it take to learn to play an instrument?
A. Well, I've been playing the violin for 35 years or so, and I'm still learning! Really, regardless of natural talent, any child or adult can develop skills and make progress in learning to play an instrument if they practice correctly and often. But, factors such as age, inherent ability, aptitude, hard work and interest all affect the rate of advancement, and the ultimate level that is reached.
Generally speaking, a young beginner (age 4 to 6) will likely be playing recognizable pieces (Twinkle, Twinkle Little Star, or Go Tell Aunt Rhody, for instance) within several months; a bit older beginner (age 7 to 9) within a few months. And if a child started at age 10 or later, he/she would be learning those pieces within a month or two. Of course, starting at a younger age yields its own benefits, as muscles are more pliable, and a wonderful ease of playing is often more readily attained. A child who acquires fluency in a foreign language before age 12 usually does so accent-free. Likewise, learning an instrument at a younger age often results in a very natural playing manner.
Remember, our goal (and hopefully yours) is to see how well we can learn, not how fast. Once proper fundamentals are mastered---correct body posture, bow hold and bowing techniques (violin and cello), simple harmonies (piano), basic picking and strumming patterns (guitar), fingering mechanics, rhythm and note-reading skills, etc.---learning music can be accomplished more quickly, and with better results.
Q. How often will my child (or I) take a lesson?
A. One lesson per week is sufficient for most students. In certain circumstances, a very advanced student might want to take two lessons per week, in order to build a more substantial repertoire.
Q. How long should the lesson be?
A. The standard lesson-length options at the DSA are 15, 30, 45 and 60-minutes, depending on the student's concentration, age, maturity and level of playing. Generally, a 15-minute lesson is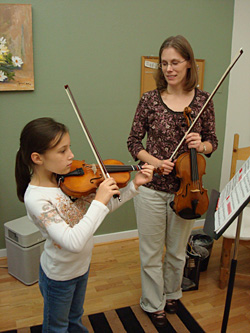 reserved for the 4-year-old or younger child. By age 5, most children are ready for 30 minutes, which usually remains sufficient until age 9 to 10 or so. From this point, the 45-minute length is often recommended, particularly if the child has adequately progressed and/or joined an orchestra, thus having additional music to learn. Once the child has studied for several years and become advanced, he/she will be prepared for 60-minute lessons. This is often the case by the age of 12 or 13.

As a student (of any age) advances, it is necessary to work on more difficult solo pieces and more technical works, such as double stops and higher position studies (violin and cello), chords and their inversions (piano), learning tablature and lead guitar solos (guitar), scales and arpeggios, etudes, exercises, etc. If the child is naturally adept, hard- working and dedicated, he/she may progress more quickly than others, thereby necessitating longer lessons at an earlier age than these general ranges outline.
Q. What if I don't own an instrument?
A. No problem. Whether you wish to purchase or rent, we will help you find an appropriately sized and priced instrument. We offer violin rentals for $20 per month; cellos and guitars are readily rented at various music stores for $20-25 or so per month. Keyboards and pianos rent for a bit more. For piano students, it is not required that you have a full piano at home. A keyboard is fine, as long as it is "weighted," meaning it has the same touch as a regular piano.
Q. Do I need to be at my child's lessons?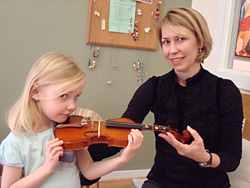 A. We strongly encourage the parent to attend lessons, especially with the younger students (age 4 to 9 or so). It's important that the parent learn much of what the child is being taught at the lessons, as we will be encouraging you to supervise the home practice sessions. If it is not possible for you to attend, then regular phone or email updates are helpful in keeping you involved with the specific issues.
Q. How involved do I need to be in the home practice sessions?
A. It is important for the parent to direct the daily practices of a beginning or young student. Technical issues such as correct posture, right and left hand technique, rhythmic stability, intonation, etc., can be difficult without the parent's guidance at home. Once the teacher has determined that the student has progressed enough to practice alone, then the parent can relinquish that role. This is often the case by about age 9 to 10 or so. One thing is certain: when a parent attends lessons, then actively guides the home practice sessions, the child WILL make more progress than when they do not.
Q. How much should my child practice?
A. As much as possible! But, to be reasonable, we recommend practicing 5 to 6 days a week. For a 4 to 6-year-old, a good goal is 15-minutes per day; from age 7 to 9 we would like to be heading toward 30-minutes per day; age 10 to 12, 45-minutes a day is recommended; and age 13 and older, 45 to 60 minutes of good, concentrated work is quite fine. Of course, the most serious students will practice 1, 2, 3 hours a day, or even more. But, remember: the most important aspect of practicing is the quality, not the quantity. Doing something correctly for 10 minutes beats doing it haphazardly for 20 minutes!
Q. Can my child take lessons on more than one instrument?
A. Yes. In fact, it has been my experience that those who learn more than one instrument are often able to catch on to matters such as note-reading and theory more quickly, probably because they are learning from two different angles. The only issue is whether or not they will have enough time to devote to the practicing of both.
Q. My child wants to play rock & roll guitar - do you offer lessons for this?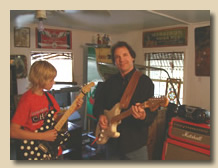 A. Yes, we offer programs of study for guitar students emphasizing blues, pop & rock or classical music. A combination of these styles is also available.