"I can't listen to that much Wagner. I start getting the urge to conquer Poland."
Woody Allen
Faculty
Violin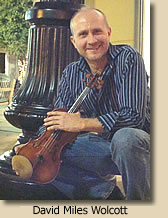 David Miles Wolcott
David Miles Wolcott, director of the Dallas Suzuki Academy since 1997, has been teaching violin lessons for more than 20 years. After receiving his Bachelor of Music degree in Violin Performance from Bowling Green State University in 1985, he earned a Master of Music in Violin Performance from Southern Methodist University in 1987. Mr. Wolcott has been a first violinist with the Dallas Opera Orchestra since 1991, and from 1998-2003 was the concertmaster of the Abilene Philharmonic and Abilene Opera. He has performed with several other area orchestras, including the Fort Worth Symphony and the Dallas Chamber Orchestra. Mr. Wolcott has appeared as a soloist with the Fort Worth Civic Orchestra, Toledo Symphony, Killington (Vt.) Festival Orchestra and Bowling Green (Oh.) Philharmonic. An active chamber musician, he has played in quartets and other small-ensemble groups in Dallas for more than two decades. Mr. Wolcott enjoys all styles of music, and has performed concerts with such musicians as Ray Charles, Robert Plant and Jimmy Page (from Led Zeppelin), Henry Mancini, Burt Bacharach and Doc Severinsen. He has also appeared as the violinist in the television documentary, "The Genesis of Healing: Music Therapy." Alas, he was given no spoken lines.
Watch David Miles Wolcott Video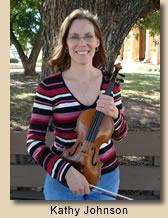 Kathy Johnson
A DSA faculty member since 1997, Kathy Johnson has more than 15 years experience teaching violin. Mrs. Johnson received a Bachelor of Music degree in Violin Performance from Baldwin-Wallace College in 1994, and a Master of Music in Violin Performance from Northwestern University in 1996. While at Northwestern she held an assistantship in teaching violin to undergraduate students. Kathy plays with the Dallas Opera Orchestra and Dallas Chamber Orchestra, and has performed as an assistant concertmaster with the Abilene Opera and Wichita Falls Symphony. She has also been a member of the Civic Orchestra of Chicago, which is the Chicago Symphony's training orchestra. Kathy is the mother of two girls, and her 2-year-old can already stand in proper violin rest position!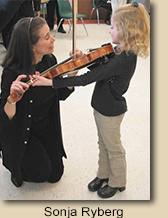 Sonja Ryberg
Sonja Ryberg has over 20 years of experience teaching viola and violin in public and private schools, and in her private studio. Ms. Ryberg graduated summa cum laude from Wichita State University, with a Bachelor of Music Education. While at WSU, she was a member of the Wichita Symphony Orchestra. Since moving to the Dallas area, Ms. Ryberg has performed with many area orchestras, including the Dallas Opera Orchestra and the Ft. Worth Symphony. Currently, Ms. Ryberg is principal viola with the Wichita Falls Symphony, a tenured member of the viola section of the East Texas Symphony, performs with the Lewisville Symphony Orchestra, and is an active chamber musician. For the past 10+ years, Ms. Ryberg has been the viola/violin 3 coach for the Greater Dallas Youth Orchestra string orchestras, YPO, DSE and Sinfonietta. A member of the Suzuki Association of the Americas, Sonja has registered Suzuki teacher training for Suzuki Violin Books 1 through 4.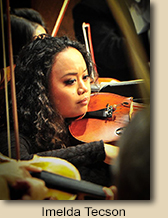 Imelda Tecson
Imelda Tecson has been teaching violin and viola for over 10 years and joined the DSA faculty in 2014. After receiving her Bachelors of Music degree in Viola Performance from the University of North Texas, Imelda went on to receive her Masters of Music and her Artists Certificate from Southern Methodist University. In addition to DSA, Imelda also teaches privately in the Richardson Independent School District and has taught masterclasses across Texas and Arkansas. She performs regularly as a member of the Las Colinas Symphony Orchestra, the Abilene Philharmonic, the Austin Symphony, the Shreveport Symphony, Texarkana Symphony, South Arkansas Symphony and other orchestras in the area. An active performer, Imelda enjoys playing classical music in addition to other styles, and has played with Tony Bennett, Julie Andrews and Bobby McFerrin, and was principal violist for Cirque Musica's North American tour.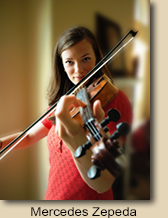 Mercedes Zepeda
Specializing in the fundamentals of violin pedagogy, Mercedes Zepeda has been teaching beginner Suzuki violin lessons for over 10 years. She recognizes and truly appreciates the early years of music education and strives to provide a firm foundation for every student. Having studied Music History and the Liberal Arts in college, Mercedes acknowledges the important role music plays in developing a beautiful soul. She embraces Dr. Suzuki's "whole person education" and cultivates a positive learning environment for the student and parent. Mercedes has been with the Suzuki Academy since 2013, and is thrilled to become a long time member of this wonderful Suzuki family.
Cello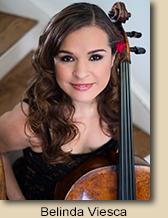 Belinda Viesca
Belinda Viesca has been teaching cello and chamber music for 11 years. She is the former cello professor of the Preparatory school of music at Texas Christian University, Music Institute of North Texas, HEB ISD, Austin Academy of Excellence, Highland Park MS, Highland Park HS and Griffin MS. At the present time, she teaches at the Dallas Suzuki Academy, Greenhill School, the International Conservatory of Dallas and privately. Ms. Viesca completed a Bachelor's degree with Cum Laude in Cello Performance at University of Houston and a Master's degree with Magna Cum Laude from Texas Christian University. She started her musical training in Mexico City and also studied at the Maastricht Conservatory in Holland. She did post-graduate studies at Boston Conservatory and at Southern Methodist University. And also, she was a Creative Resident Artist at the Banff Centre for the Arts in Canada. At the present time, she is the cellist of the Pandora String Quartet, performs regularly in Musicals with the McKinney Summer Musicals Company, the South Arkansas cultural organization and the Texas Shakespeare Festival. Also, she plays as Principal and Co-Principal Cellist with the: Irving, South Arkansas, Texarkana and San Angelo Symphony Orchestras, and as Section Cellist with Shreveport Opera, Shreveport, Irving and Plano Symphony Orchestras. Belinda performs actively as an orchestra player, recitalist and chamber musician in the US, Mexico, Canada, Puerto Rico, Italy and Germany.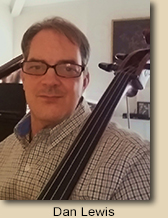 Dan Lewis
Dan Lewis has been teaching private cello and piano lessons in North Texas for more than 20 years. While studying cello at the University of North Texas, he performed extensively in Colombia and Mexico in three tours with the university cello choir under the direction of Maestro Adolfo Odnoposoff. After graduating from UNT, he founded a professional string quartet and played in various chamber music recitals and festivals around the U.S. and abroad. Locally, he has played in several regional orchestras as principal cellist, including the Lewisville Lakes Symphony, where he has held the principal cello position for nearly three decades. Mr. Lewis has also performed as a collaborative pianist in faculty chamber music recitals at universities in Arkansas and Minnesota. His students have won top awards in the Juanita Miller competition, the Collin County Community College competition, Denton Bach Society concerto competition, and the Lewisville Lakes Symphony young artist competition.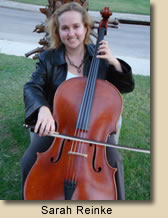 Sarah Reinke
Sarah Reinke has nearly 10 years experience teaching cello, and has been a member of the DSA faculty since 2005. Ms. Reinke has held faculty positions in the Plano and Richardson school districts, the Dallas Symphony Young Strings Program, and is currently Director of Strings at Houston Elementary and Rosa Parks Elementary in Lancaster. After receiving a Bachelor of Music degree in Cello Performance from Texas Tech University in 2004, Sarah earned a Master of Music in Music Education from Southern Methodist University in 2006. A former section member of the Lubbock Symphony, Ms. Reinke has also performed as guest principal cellist with the Hobbs (N.M.) Symphony, and has participated in the Brevard and Killington Music Festivals. Frequently a performer with classical chamber groups, Sarah also enjoys other styles of music, and has appeared as cellist with the rock group Trans-Siberian Orchestra and with local folk musician Kerri Arista.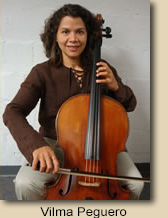 Vilma Peguero
A former adjunct cello instructor at Baylor University and Richland College, Vilma Peguero joined the DSA faculty in 2007. Mrs. Peguero has nearly 20 years of teaching experience, and currently also teaches for the Dallas Symphony Young Strings Program and the Hockaday School. She holds a Bachelor of Music degree from Columbus State University (1993), and a Master of Music from Southern Methodist University (1995). In 2000 Mrs. Peguero joined the Dallas Opera Orchestra, after previously holding section cello positions with the Dominican Republic National Symphony and AIMS Festival Orchestra in Graz, Austria. She has performed cello solos with the Columbus Symphony Orchestra and the Dominican Republic National Symphony. Vilma also enjoys chamber music, and currently plays with several local quartet ensembles.
Piano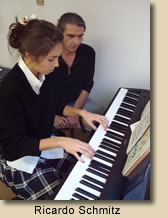 Ricardo Schmitz
Ricardo Schmitz has taught piano lessons for more than 20 years, and has been on the faculty of the DSA since 2005. Mr. Schmitz teaches and performs various styles of music, including classical, jazz and blues. His classical performing achievements include winning the Oxford (England) Music Festival Best Recital Competition, the Best Bartok Concerto Award, and the Sydney Harrison Award for best Chopin performance. He has played in jazz concerts with members of the Dallas Symphony Orchestra brass section, and as a soloist at the "Evening of Jazz and Blues with Mississippi's State Treasurer" concert. Ricardo has also composed, arranged and performed music for several Dallas theater companies. Mr. Schmitz received a Master of Music degree in Piano Performance from Real Conservatorio de Madrid in 1989, and an Artist Certificate in Piano Performance from Southern Methodist University in 1993. Ricardo enjoys accompanying singers, and has worked with many in the Dallas area.
Guitar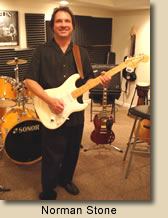 Norman Stone
Norman Stone has played guitar for more than 30 years. His extensive blues and pop & rock background includes performing with local bands such as High Strung, the Pub Monkeys and currently Voodoo Chili. A classical musician as well, Mr. Stone is a violinist with the Dallas Opera Orchestra, Wichita Falls Symphony and Richardson Symphony. He has also played violin in the pop & rock genre, having performed with Frank Sinatra, the Moody Blues, Robert Plant and Jimmy Page, Barry White, and others. Mr. Stone received his Bachelor of Music degree from Southern Methodist University in 1985, and has been teaching for nearly 15 years. Norman is excited to bring his diverse background to the DSA, and will be teaching blues, pop & rock and classical styles of guitar.