"Do I listen to pop music because I'm miserable, or am I miserable because I listen to pop music?"
John Cusack,
in High Fidelity
Private Music Lessons
Established in 1997, the Dallas Suzuki Academy is a music school dedicated to helping violin, cello, piano and guitar students of all ages maximize their development within a nurturing and friendly environment.
Utilizing both Suzuki instruction and traditional instruction methods and repertoire, we strive to produce a well-rounded musician, focusing on both the student's creative and technical growth.
Each Dallas Suzuki Academy faculty member has many years of teaching and professional performing experience in the Dallas-Fort Worth metroplex area, and is committed to addressing the individual needs of every student.
Our ultimate goal is to help each student, from the beginner to the professional-to-be, discover the joy and satisfaction of music that will last a lifetime.
---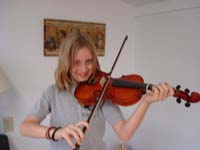 Student of the Week
Meet Sophia!
Sophia has played violin for 3 years. She likes the big, beautiful sound a violin can make, and playing makes her feel excited and happy. She feels a sense of accomplishment when she plays well, and her favorite piece is Perpetual Motion. Sophia's other interests include art, writing, reading, exploring, soccer, and animals.
(You may click on the photo to open a high resolution copy of the image.)
---
Location
We are located just north of Northpark Mall, at:
5452 Glen Lakes Dr.
Suite 101
Dallas, Texas 75231
Email:
Phone: (214) 641-3283
Hours of Operation: 9 am - 9 pm, 7 days a week.